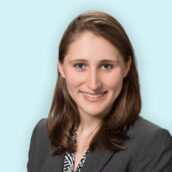 Yuliya Afinogenova, MD, FCCP
Specialty:
Allergy & Immunology, Rheumatology
loading...
About
About Provider Yuliya Afinogenova, MD, FCCP:
Dr. Afinogenova is a member of Optum Rheumatology, Allergy, and Immunology departments. Although Rheumatology and Allergy/Immunology are often separate specialties, Dr. Afinogenova chose to complete a unique four-year combined fellowship as the two fields complement each other perfectly. The immune system may be deranged in both rheumatic and allergic conditions. Understanding of both specialties allows Dr. Afinogenova to deliver the most comprehensive and innovative care to her patients.
Dr. Afinogenova enjoys treating both adult and pediatric patients within allergy and immunology and adult patients within rheumatology. On the rheumatology side, she treats patients with osteoarthritis, rheumatoid arthritis, osteoporosis, gout, autoimmune diseases such as lupus and scleroderma, myositis, and vasculitis, among others. On the allergy and immunology side, she has a particular expertise in hay fever, allergy immunotherapy, food allergies, drug allergies, sinusitis, allergic skin conditions, asthma, and immune deficiencies, among others.
Prior to joining Optum, Dr. Afinogenova was heavily involved with research at Yale. Her areas of expertise include food allergy, axial spondyloarthritis, immune related adverse events from checkpoint inhibitor therapy and vaccine immunology related to Covid vaccines. She authored a number of manuscripts and has been a recipient of prestigious awards and honors, including Spondylarthritis Research and Treatment Network (SPARTAN) Pilot Project Grant. She was also an editor for the rheumatology section of theMednet, a national physician platform for expert answers to real world clinical situations. She enjoys building long-term relationships with patients and aspires to treat each and every single one of her patients as family. She is a strong believer in shared decision making and takes the time to understand her patient's concerns, create a shared treatment plan, and answer all questions that come up along the way. In her free time, Dr. Afinogenova enjoys hiking, skiing, playing tennis, traveling and spending time with family.
Languages Spoken:
English, Russian
Education & Training
Training:
Undergraduate & Graduate

Rutgers University, BA: 2011
Yale School of Medicine, MHS: 2022
Fellowship

Yale School of Medicine Combined Allergy, Immunology, and Rheumatology
Board Certifications

American Board of Internal Medicine
American Board of Rheumatology
American Board of Allergy and Immunology
Affiliations
Hospital Affiliations:
Hackensack University Medical Center
Saint Peter\'s University Hospital
Publications
Journal Articles:
1. Shin JJ, Par-Young J, Unlu S, McNamara A, Park HJ, Shin MS, Gee RJ, Doyle H, Afinogenova Y, Zidan E, Kwah J, Russo A, Mamula M, Hsu FI, Catanzaro J, Racke M, Bucala R, Wilen C, Kang I. Defining Clinical and Immunological Predictors of Poor Immune Responses to COVID-19 mRNA Vaccines in Patients with Primary Antibody Deficiency. J Clin Immunol.
2. Afinogenova Y, A. Danve, T. Neogi. Update on gout management: what is old and what is new. Curr Opin Rheumatol, 2022. 34(2):118-124
3. Shin J, S. Jeon, S. Unlu, J. Par-Young, M. Shin, J. Kuster, Y. Afinogenova, Y. Kang, M. Simonov, G. Buller, R. Bucala and I. Kang. A distinct association of inflammatory molecules with outcomes of COVID-19 in younger versus older adults. Clinical Immunology.
4. Gupta, A, Y. Afinogenova, N. Podoltsev, A. Danve, Concurrent Use of Tumor Necrosis Factor Inhibitor and Tyrosine Kinase Inhibitor in Ankylosing Spondylitis and Myeloid Neoplasm. European Journal of Rheumatology.
5. Afinogenova, Y., et al., Community Private Practice Clinical Experience with Peanut Oral Immunotherapy. J Allergy Clin Immunol Pract, 2020. pii: S2213-2198(20)30259-2.
6. Afinogenova, Y., et al., Aberrant progranulin, YKL-40, cathepsin D and cathepsin S in Gaucher disease. Mol Genet Metab, 2019. 128(1-2): 62-67.
7. McCarty, T.R., Y. Afinogenova, and B. Njei, Use of Wireless Capsule Endoscopy for the Diagnosis and Grading of Esophageal Varices in Patients with Portal Hypertension: A Systematic Review and Meta-Analysis. J Clin Gastroenterol, 2017. 51(2): p. 174-182.
8. Afinogenova, Y., et al., Low Fasting Oxytocin Levels Are Associated with Psychopathology in Anorexia Nervosa in Partial Recovery. J Clin Psychiatry, 2016. 77(11): p. e1483-e1490.
9. Afinogenova Y, Tapper EB. The efficacy and safety profile of albumin administration for patients with cirrhosis at risk for hepatorenal syndrome is dose dependent. Gastroenterol Rep (Oxf). 2015 Aug; 3(3):216-21.
10. Kobayashi H, Swapna GV, Wu KP, Afinogenova Y, Conover K, Mao B, Montelione GT, Inouye M. Segmental isotope labeling of proteins for NMR structural study using a protein S tag for higher expression and solubility. J Biomol NMR. 2012 Mar; 52(4):303-13
Book Chapters:
Afinogenova Y., Brooks J. "Idiopathic CD4 lymphopenia." Primary and Secondary Immunodeficiency, edited by J Bernstein, Springer International Publishing, 2021, pages 139-147.