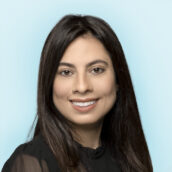 Mona Aboulnaja, APN
Specialty:
Internal Medicine
loading...
About
About Provider Mona Aboulnaja, APN:
Mona Aboulnaja, APN cares for patients as a Nurse Practitioner in our Maywood and Jersey City Waterfront Adult Medicine offices. She received her Undergraduate degree from Seton Hall University in 2008 and her Master's degree from Rutgers University in 2014 where she graduated Summa Cum Laude. Mona is Board Certified in Adult and Gerontology Primary Care with AANP. In addition, she is a member of the American Academy of Nurse Practitioners and the Honor Society of Nursing, Sigma Theta Tau International. Mona has experience in cardiac and critical care nursing. She has a special interest in health promotion and disease prevention. The primary care office is the first stop in preventing diseases. She believes that doctors are in the perfect position to take time at each visit to offer counsel on things such as diet, exercise and smoking cessation. She also believes that it is important for patients to know the current guidelines and be up to date with mammography, colonoscopy, prostate exam, vaccination, etc. Furthermore, she believes taking the time to discuss these lifestyle choices and guidelines is invaluable and potentially life-saving; she takes a special interest in keeping our patients healthy!
In terms of her personal philosophy with patient care, she believes in, "building long lasting and trusting relationships with patients. I know that a strong relationship between a primary care provider and patient has many benefits. I strive to improve health and engage patients as active participants in their care to improve outcomes. We work together to accomplish a common goal." Besides taking exceptional care of her patients she enjoys outdoor activities, movies, swimming and spending quality time with her family.
Languages Spoken:
English