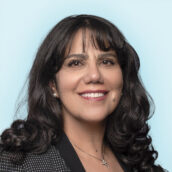 Nermine Doss, MD
loading...
About
About Provider Nermine Doss, MD:
Dr. Nermine Doss is one of our most senior and popular doctors in Secaucus. She completed her pediatric residency at the University of Medicine and Dentistry of New Jersey (UMDNJ) in Newark, NJ in 1998 and joined Riverside Pediatrics that same year. Dr. Doss has a special interest in child development and behavior modification. Since joining Riverside in 1998, Dr. Doss has had the pleasure of watching her patients grow from infancy to adolescence. She has 4 sons, ranging in age from 17-years old to 5 years-old, which she believes allows her to relate to the parents of her patients in all stages of parenthood.
Doss is an embodiment of a passionate pediatrician. When asked about her philosophy in treating children, Dr. Doss responds that she "loves her patients as though they are her own children" and she believes that "it is important to take the time to work closely with her patients' parents in addressing any medical, behavioral or social issues that her patients are facing". As she puts it in her own words - "I love and enjoy working with kids of all ages all day!" Dr. Doss' husband is an Internist in West Orange, NJ. She lives with her husband and 4 sons in Cedar Grove, NJ.
Languages Spoken:
English